Myrtle's Story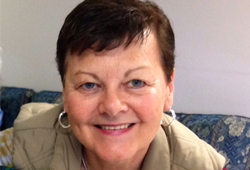 Click here to listen to Myrtle's testimonial.

Myrtle is an active grandmother of two (see photo). She loves to read and work in her yard. Her love for people motives her to volunteer for a local hospice program, visit shut-ins and serve on a committee in local schools geared to feeding hungry children. Myrtle serves as her church's secretary and president of her ladies group.

Her heart for people and her desire to do charitable work led her to act on advice she heard on American Family Radio's Talk Network program, Financial Issues, with Dan Celia. She really liked the idea of giving through a Charitable Gift Annuity to benefit the kingdom of God. Upon learning about the American Family Association, she knew she had found the organization to which she wanted to donate.

Myrtle also liked the idea of the "gift that gives back." She relates when asked what she might tell someone who has or is thinking about donating through a Charitable Gift Annuity, "I would say not only (do) you get income for the rest of your life, but knowing you are (being) a good steward of giving what God has blessed you with."

Her experience with AFA Foundation was and is a pleasant one as she has had all her questions answered and received easy instructions on filling out the paperwork. Myrtle also established a Charitable Remainder Unitrust.